---
About Us
HICUPS was started in 2009 to promote the Irish uilleann pipes and piping on Vancouver Island. In this part of Canada, pipers are few and far between, so HICUPS was formed as a way to for us support each other as we learn and improve our playing. The uilleann pipes are difficult enough to learn without trying to do so in complete isolation.
The number of uilleann pipers on the island has been growing slowly but steadily since about 1991 (as far as we know). It took 18 years, but we finally reached a critical mass of enthusiastic pipers to create the core of a self-sustaining organisation. Our principal goal is to provide peer support for all of us who are learning and playing the uilleann pipes. Our members include fresh beginners, 20+ year veteran players, and all experience levels in between. Everyone has something to contribute, even if it's just a good question.
We have meetings once a month, where we get together to play and share tunes, tips, techniques, talk and generally have a good time. We have also done the odd (some might say very odd...) group performance or presentation - we're interested in any opportunity to promote the uilleann pipes and their music.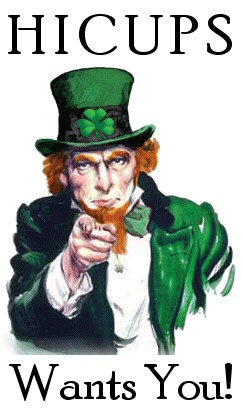 There are no membership fees or dues (and frankly very little organisation.) The only requirement is to show up, and be interested in uilleann pipes and piping! If you've got something to share or teach, be ready to offer it. If there's something you're trying to learn, be ready to request it. We all get out of it what we put in.
Beginners are welcome. We can help! If you're just thinking about playing, or are waiting for a set, we can loan you a set of pipes. If you have a set, we can help with reed problems and ergonomic issues that may be hindering your progress. We can help your learning along, and/or connect you with private lessons.
Experienced players are welcome. We all love to hear and play with other pipers, and it's great for all of us to be exposed to others' music and playing styles. You've got tunes, tips, and techniques to share, and so have we.
Other members we'd especially love to have are those who have previously given up on piping for whatever reason, whose pipes have been sitting unplayed in the closet or under the bed. (You know who you are...) We want to give you an excuse to dust off the pipes and strap them back on. A place to blow them up in the company of people who love nothing more than that sound. We want to give you an outlet, a reason, and a supportive place to play the pipes.
---
What's in a name? Some people have said that HICUPS doesn't actually stand for "Vancouver Island Uilleann Pipers' Club." Well, that's just the sort of thing some people would say. We choose not to let it get to us.
---

last updated July 2012